There are two different ways to verify your phone number: through Embedded SignUp or through us.
This is what you need to prepare:
Facebook Business Manager: must be verified before WhatsApp checks your company. You can find instructions here. If your company is a media company, it is also essential that it is registered in the News Page Index.
Phone number: Landline and mobile numbers are possible. It is important that at the time of verification WhatsApp is no longer registered on the phone number. To unregister WhatsApp correctly, please open the app on your device, go to the settings, there to "Account" and here to "Delete my account". It is not enough to uninstall or simply delete the app. Only after this the phone number can be verified. Please also note that once a phone number has been verified as a business account, it can never be used for private WhatsApp use again.
Display Name: this name belongs to your phone number and cannot be changed afterwards. Please make sure that the name complies with the rules. It is also important that your Display Name matches the name of the Business Manager. If, for example, your Business Manager is called "John Doe Inc." and your Display Name is "John Doe Customer Service", then this is completely fine. What doesn't work, however, is a Business Manager with the name "ABC Agency" and the display name "John Doe Customer Service".
Option 1: Embedded SignUp
With the help of the Embedded SignUp, you can verify your desired WhatsApp phone number independently, directly and quickly. This can reduce the verification process to a few minutes. All the necessary steps can be combined into a single process – connecting Facebook Business Manager, creating a WhatsApp Business account and verifying the phone number.
What you have to do
Go to Settings → Channel → Messenger.
Click on "Register WhatsApp phone number". This will bring you to the setup page to start the onboarding process.

If you do not have access to the Facebook Business Manager or do not have admin rights, then you can send this link directly to the responsible colleague.

Please keep in mind that this link is only valid for 24 hours after creation.If you have access to the Facebook Business Manager, you can click "Connect" here and you will be redirected to the next step.
After that you will be redirected to Facebook. Important: Your browser must allow pop-ups, otherwise the Facebook login window cannot be displayed.
In this window it is essential that you log in with an existing Facebook account that has admin rights to the Business Manager.
The Embedded SignUp is done in 3 simple steps:
Link your Facebook Business Manager to the MessengerPeople platform and click on "Get Started". After that, the connection to Facebook is established.

Create a WhatsApp Business Account (WABA Account). Create a display name for your WABA account and choose the category that best suits your business.

Verify your phone number – you can choose between an SMS (for mobile numbers) and a phone call (for landline numbers). Then enter the 6-digit code that you were given in the field provided.
After the "Verify" button is clicked, the phone number is verified and you can communicate with the users directly through our Messenger Communication Platform.
IMPORTANT: In the last step on the setup page, click the "Install Now" button. Only then the complete Embedded SignUp process is finished.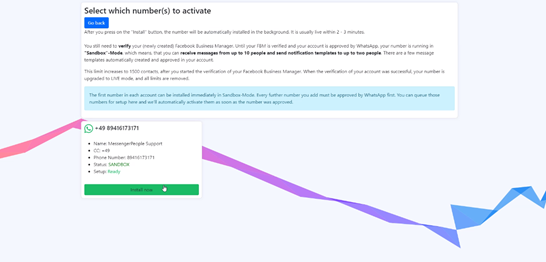 NOTE: You are now in a kind of test state – the "Sandbox" mode. This test state exists for a maximum of 30 days. You can contact two phone numbers and have 10 conversations. This test state is valid only for the first verified phone number for each WABA account.
Option 2: through us
What you have to do
As soon as you have entered and submitted all data in the tool, we will create a WhatsApp Business Account for you. You will receive a request in the Business Manager that MessengerPeople wants to connect to you. Please confirm this request so that the verification can proceed. This request is only visible to admins of the Business Manager, you can find it by clicking on the notification bell in the top right corner or under "Settings" -> "Requests".
After you have confirmed our request and verified the business manager, WhatsApp will verify your company and the submitted display name. This will take approximately 1-2 days from that point on.
Once WhatsApp has confirmed that your company is authorized to use the WhatsApp Business API, we can verify your phone number. To do this, we will coordinate an appointment with you (weekdays between 10 a.m. and 4 p.m. CEST / CET) where we will send you a verification code. This code is sent to mobile numbers via SMS and to landline numbers via phone call. Please note that all answering machines, IVRs, etc. must be turned off before the code is sent. As soon as you receive the code, please send it to us and we will complete the verification.
Afterwards you can be reached as a company account via WhatsApp.
Good to know
new pricing: WhatsApp will change its pricing model from February 1, 2022. In the future, costs will be calculated per conversation. A distinction will be made between user-initiated and business-initiated. But: 1,000 conversations per month and WhatsApp business account are free, which opens up many opportunities and possibilities. You can find more detailed information here and in the official WhatsApp documentation.
Notifications: If you want to send messages to multiple users via WhatsApp, you have the option to create notifications and send them to your customers.
Green thick: WhatsApp distinguishes between "corporate accounts" and "official corporate accounts". Once your phone number is verified, you will have a corporate account. An official corporate account is indicated by the green tick behind your display name. You can apply for an official company account at the earliest 4-6 weeks after your number goes live. WhatsApp decides which companies receive the green check mark based on its own, non-public criteria.