Requirements & settings for Instagram
Since Aug. 16, 2021, all business accounts are allowed to use Instagram messaging as a service channel.
The company needs an Instagram Business account.
The connection between the Instagram Business account and a Facebook page is essential.
Under "Settings" in your Instagram account (only possible via the smartphone): Settings >> Privacy >> Message settings >> scroll all the way down >> activate "Linked tools" >> "Allow access to messages".
Activation of the messenger in the MessengerPeople customer interface
Make sure that you have the admin rights to the MessengerPeople channel.
Then click on Settings >> Channel in the left menu of the MessengerPeople customer interface and the drop-down menu will open. Then navigate to the "Messenger" tab.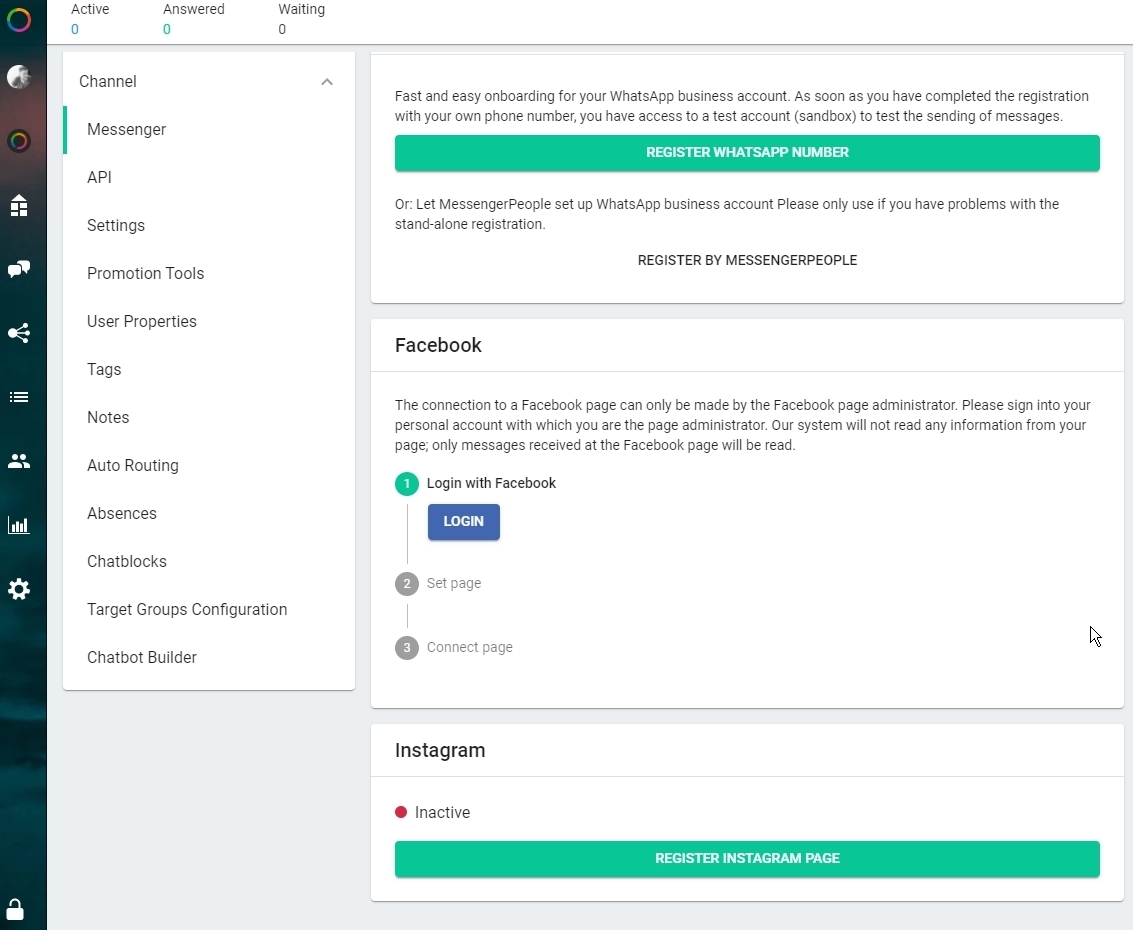 Click on the "Register Instagram Page" button at the bottom under "Instagram".
Then click on "Connect" >> "Edit Settings" , select your Instagram account and connect it to the Facebook Page.
Now your Instagram account is connected and ready to use.


What can I do with Instagram Direct Messenger?

Reply to Instagram direct messages from your users within a 7 day time window. Note: No users can be contacted just because they are followers of the corresponding Instagram page.
Send and receive media, such as pictures or videos
Send audio files (send as a link)
Replying to Instagram direct messages using chatbots and chat modules
You will be informed about stories in which you / your company has been mentioned and you can view and reply to them within 24 hours. After 24 hours you can still reply – but the story is no longer visible. The story is not displayed directly in the interface of the Messenger Communication Platform, but can be seen as a link. If you click on it, you will see the story.

❗ Note: We are still in the BETA phase here and are trying to explore all possibilities. At this point, it can always come back to changes on the part of Instagram!

What can the API for Instagram not (yet)?

Video calls
Submitting posts to the feed, as reels, or as storys
Sending or receiving like reactions
Receiving videos recorded directly through Instagram
Receiving or sending voice recordings
Incoming and outgoing stickers
Buttons
Sending newsletters
product templates (here we are already working on)