Under Settings >> Channel >> Settings you can manage the appearance and information of your channel with the General Channel Settings.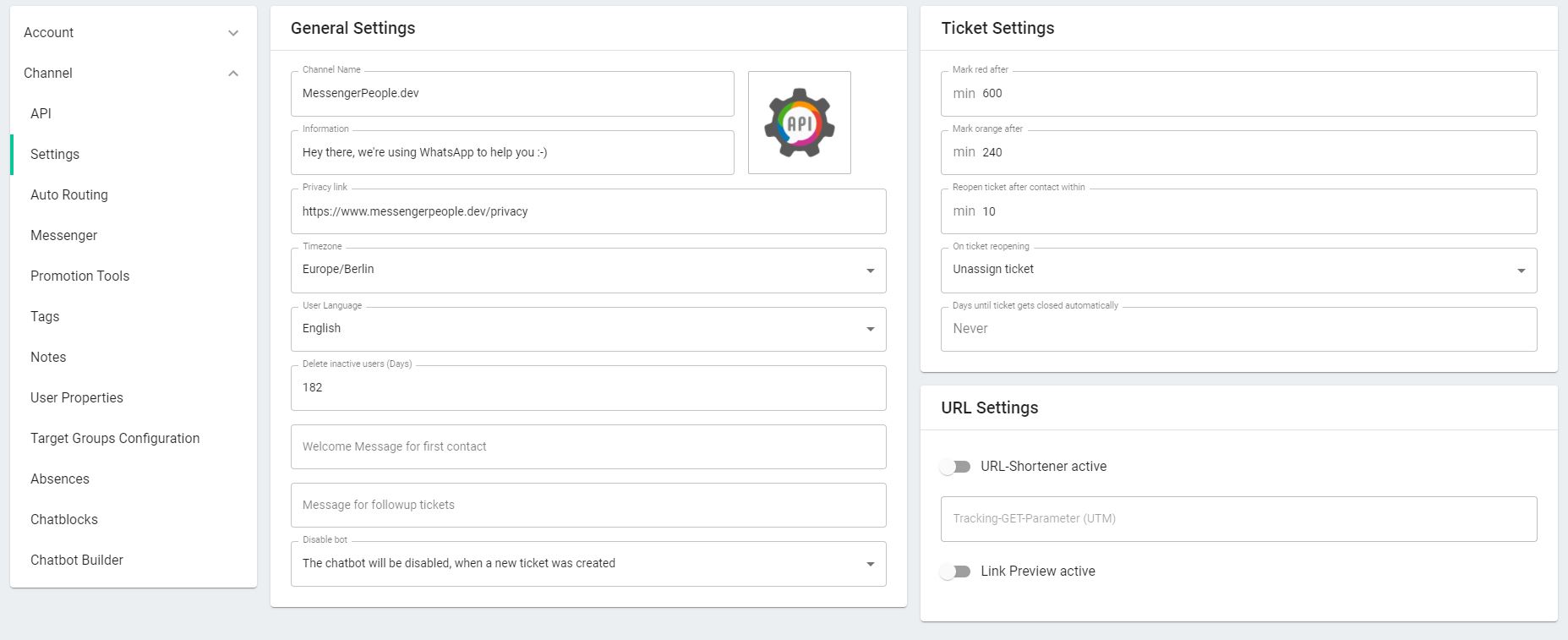 You have to define the following settings:
Your channel name
if necessary a channel info (this will be displayed as WhatsApp status)
Profile picture (250px*250px), like the logo of your company.
"Privacy link": this is a required field and must be filled in so that the other fields can be saved. The link stored here will also be used in the widget.
Time zone as well as the language in which common commands (e.g. "Profile") should be accepted. The time zone is relevant for time-dependent responses (e.g. absence notes).
"Delete period" (in days): here you define after which period of time without contact the data and tickets of your user:inner should be deleted from the system.
Welcome message on first contact, which is automatically sent to the recipient after he/she has opened a new ticket through a chat for the first time. This could read, "Thank you for your message, we will get back to you in a timely manner on your question."
If the user contacts you again at a later time, you can enter a second welcome text in the text field "Message for subsequent ticket" (e.g.: "Welcome back, nice that you contact us again!").

In the last part you can define if and when the chatbot should be deactivated.
What are the ticket settings?
Under ticket settings you can define the following settings:
Time, from when your tickets should be marked in color. This way you can facilitate the recognition of the urgency of your tickets and ensure that your tickets are answered according to your defined SLA rules.
Time how long a ticket should be reused. This means that if a user responds again within the time defined here, the previously resolved ticket will be reopened and no new ticket will be created. Additionally, you can set whether the assignment to the editing agent should remain or not.
What are the URL settings? 
The parameters are automatically appended to all shortened URLs. To track which messenger the user is coming from, please use the variable %SOURCE%, e.g.: "utm_source=%SOURCE%". The variable %SOURCE% will be automatically replaced by the corresponding value on forwarding:(whatsapp| messenger| notify| telegram| imessage| viber| custom).