With your profile settings, you as an agent can edit your work interface, your personal profile, and your current status.
You can find your profile settings in the drop down menu under the agent/name icon in the navigation.
You can change your status in the dashboard.
The three sections in the profile settings
With the settings in your personal user profile you can change the following things within the sections "My data", "Notifications" and "Password":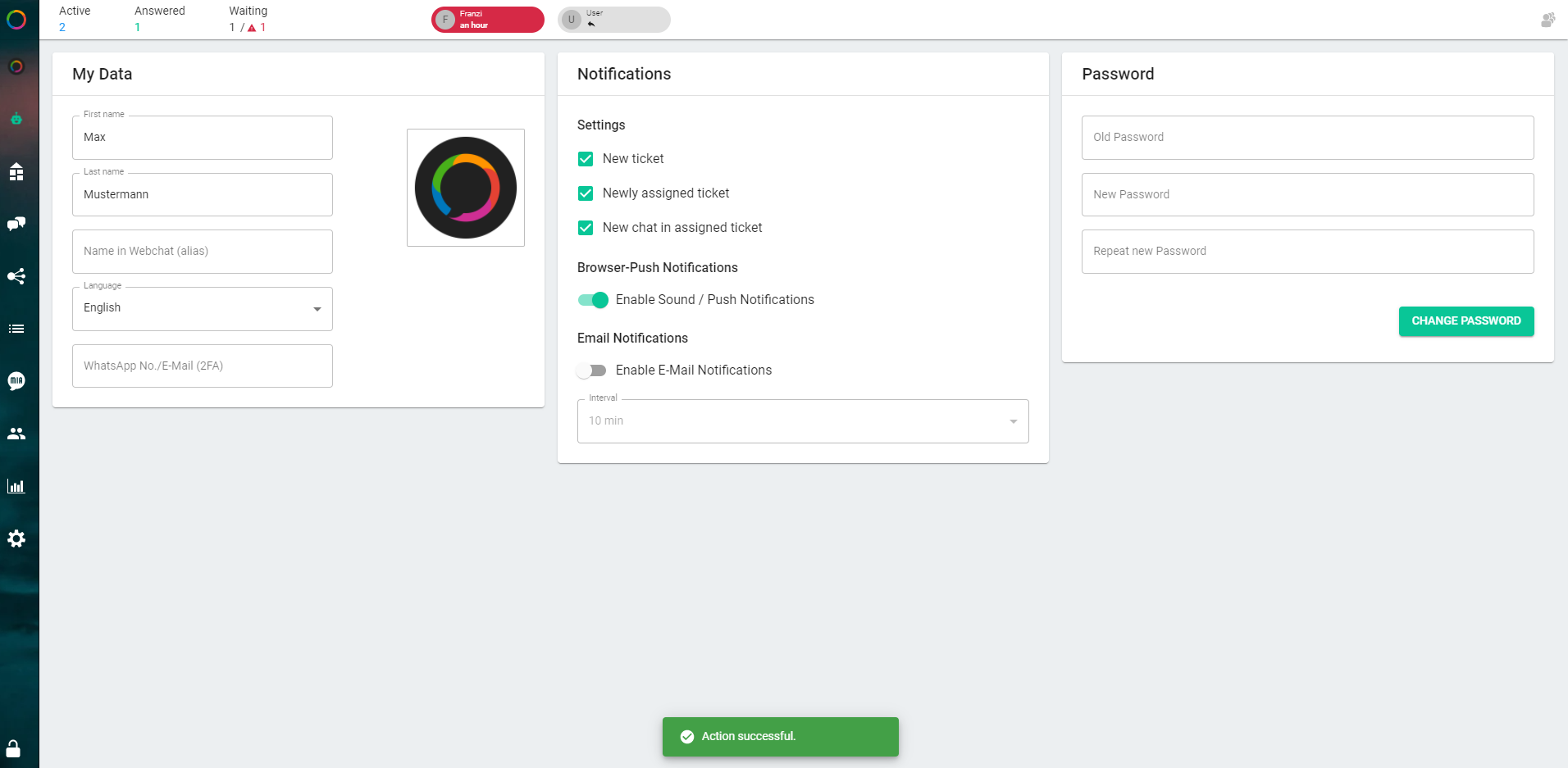 My Data
Your profile name
The language of your desktop
Your profile picture (250px*250px) – your colleagues will see it in the tool. Only the channel picture will be shown to the users (to be set in Settings >> Channel >> Settings).
Your password
The entries will be saved automatically and updated in your user profile
Notifications
In your personal user profile you can make changes within the rubric "notifications".
Email notifications: Sent only if the agent is not logged in to the tool at the time. I.e. e-mail notifications only work if the agent has activated them at https://app.messengerpeople.com/profile/system-settings, has specified an interval for them, has set the check mark at the top and is logged out. By default, a session timeout of 20 minutes is stored. This means that a logged in user cannot receive any for 20 minutes.
Push notifications:Only works if you are logged in and are currently on another tab in the browser. Then a "pop-up" appears briefly at the bottom right. Please check your browser settings, if necessary also those in Windows, whether you allow browser pushes from https://app.messengerpeople.com/. The browser push notification (if you have enabled it in the tool) is displayed when you are logged in and doing something in another tab or doing something else on your laptop/PC.
In addition, you can select the type of ticket for which you would like to receive a notification:
New ticket: when a ticket is opened (without assignment) in your channel
Newly assigned ticket: When a ticket is assigned to you
New chats in the assigned ticket: When a new chat is received in a ticket assigned to you
Password
Here you can set up a new password
Agent Status
In the Dashboard you can change your status from "available" (default) to "unavailable".

In the menu under "ticket assignment" you can see the status of all other agents: green= available, yellow= unavailable, black= not currently logged in, grey = inactive.